It's not too late to make good choices this holiday season!
I know what you're saying, "But Matt I just love Monkey Bread on Christmas morning and Chinese food on Christmas Eve. I'm just going to indulge and enjoy the holidays and then start over again on New Years."
Woah, buddy. Let's step back a minute there. Do you not remember the bazillion times we've blogged and podcasted about how gluten and refined sugars can take weeks or months off the progress people make as they attempt to heal their gut? This is serious business. I can assure you the last thing you want Christmas or New Years' day is to spend hours wrenching in pain in the bathroom after "enjoying" some gluten-bombs.
But it's not all bad news, my friend! You still have a few days to prepare for Christmas, and we've got plenty of ideas for you to not derail your health!
If you're like us, you're sure to have several family traditional foods that you have around the holidays and those are the ones that really tempt you. So we've pulled from our archives the recipes our family love most at the holidays and shared some of the stories behind why they mean so much to us. Hopefully we've enabled you to still fulfill your traditions, or perhaps you're willing to introduce new paleo-friendly ones. Regardless, here is our list of our favorite recipes around the holidays.
Christmas Eve
In our family the tradition for Christmas Eve is to order Chinese, bake Santa cookies, pre-make Monkey Bread and open 1 gift from under the tree (somehow the boys haven't yet figured out they just happened to get new PJs every Christmas Eve). Given that this is now our 4th paleo Christmas we've successfully figured out how to adapt all of these traditions… including the Chinese. Our Mongolian Beef recipe is one of a TON of P.F. Chang's Recipe Recreations that we love to choose from on Christmas Eve instead of ordering out.

Growing up, Stacy and Aunt Jackie's grandmother had lots of specialty holiday treats, but everyone's favorite was always the Candy Cane Cookies. What better way to inspire awe in growing children than making a two color cookie that looks like a candy cane? Stacy and Jackie have collaborated to make this signature treat a reality once more!
Christmas Morning
In Stacy's family, the Christmas morning tradition was to make Monkey Bread for the family to share as they opened gifts. The gooey, sticky, sweet treat was definitely out of the picture once we became paleo parents — it was originally made with Pillsbury biscuits, after all! So we had to create our own version to make for our family. The result absolutely captures the memories of Christmases past.

During November sometime, suddenly the shelves of the local grocer become stocked with Egg Nog. Soon after, Matt begins to consume the stuff by the gallon. Egg Nog is a favorite of our family, so we decided to teach ourselves how to make the stuff in a dairy free version. The result is delicious, creamy egg nog you're sure to love! Check out the post for two other ways to use the nog!

Christmas Dinner
Need something super impressive to show off to your visiting in-laws? What's more impressive than a perfectly cooked rib roast? Show your family how much you care by cooking a beautiful prime rib to perfection!

Once we knew we were doing a book on pork (Beyond Bacon), we knew we needed to create a stuffing recipe. In our family stuffing isn't actually stuffed at all, our family makes what is traditionally called a dressing with pork sausage included. This casserole is a grain-free version of our previously beloved boxed dressing!

Christmas Dessert
This lovely cake is filled with seasonal color and flavor. After a busy morning of unwrapping, you'll love to serve this delicious coffee cake to your guests and children. One of our most popular desserts on the blog, we've heard nothing but rave reviews of people who love sharing this with family and friends to show how delicious paleo-friendly foods can be!

Let's face it, by this point you're exhausted. You've spent the day chasing children and ensuring they thank people appropriately for the gifts they've been lucky to receive. You've tolerated at least one family member that causes you stress to be around. And you're probably wondering if any of the gifts you received can be returned in order to get the one thing you really wanted but no one got because they thought it was too boring (pull-up bands, a foam roller and a jump rope please, Santa). It's time for a drink.
New Years Eve
Our award-winning Bacon Chicken is a dish that will surely impress even your most discerning guests. Meanwhile, it's minimal effort on your part to put together a deeply delicious and flavorful dish in only one pot!
Have one last hoorah of seasonal desserts with one of our most popular recipes of all time! Pumpkin Pucks were a revelation the first time we made them; the center is creamy like the famous pie, but it's dense enough to eat like a muffin! This is something truly special!

Recommendations from our Books
If you have our cookbooks, Eat Like a Dinosaur and Beyond Bacon, we highly recommend trying these recipes out this holiday season!
Savory Bacon Jam makes a great appetizer for any party or holiday!
Our Lard Pie Crust has been called the best grain-free crust around, if you're making pie this season we highly suggest you use it!
Want to impress on Christmas morning? Making your own bacon will do just that!
Maple Sage Sausage is shockingly easy to make yourself, and the difference in flavor from homemade will shock you!
These Harvest Muffins aren't overly sweet and perfect slathered in butter or even sweetened lard!
Maple Lard Scones aren't your typical grain-free scone. Their perfect dough slices up nicely and makes a divinely flaky yet crumbly texture you miss about the old standard scones.
Praline Fudge is not as hard as it seems and will surely impress – a little goes a long way!
Last but not least… The Best Brownies are infamous and would be a perfect New Years Eve send-off to treats for the season.
Pull out the recipe for Roast Beast while you watch The Grinch and we guarantee your kids faces will light up when they make the connection!
Although we love AAG's Real Deal Chocolate Chip Cookies our favorite are still the date-sweetened ones in ELaD. Santa loves them ♥
These Samoa Cake Balls were the inspiration for our incredibly popular Samoa Brownies, and if you can imagine – these are even better!
In keeping with the Christmas Eve Chinese theme, Beef & Broccoli is always a hit with our boys.
Recipes We've Tried and Loved
If you aren't already following Stacy on Pinterest you should definitely add her board for recipes we post after trying them ourselves. Here's just a small sampling of recipes we've tried and loved so much we're happy to serve them to family and friends at the holidays – even though we can't take the credit for inventing them!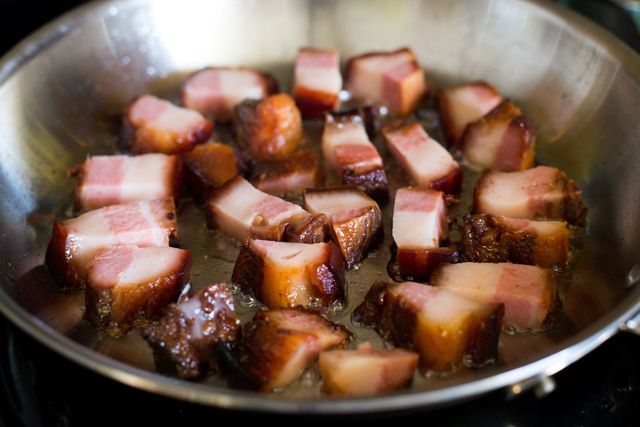 Thin Mints by Elana's Pantry – bring this to a cookie exchange and no one will be disappointed!
Bourbon and Cider Braised Bacon by The Domestic Man – this award winning dish is a MUST TRY
Beef Enchiladas from Healthy Living How To – we love these with egg inside, they make a great brunch!
Meyer Lemon, Vanilla Bean Cheesecake from Roost Blog is a wonderful treat, especially if you need a dairy-free raw vegan option for family or friends.
Peanut Butter Chocolate Chip Cookies from Against All Grain if Santa used to love peanut butter, since they are delicious but peanut-free
Rustic Homemade Honey Sweetened Marshmallows by The Urban Poser are AMAZING. You NEED them in hot chocolate.
Apple Cider Soda by Elana's Pantry is a holiday staple in our home, the apple cider and bubbles are always fun for kids!
Bill's Pumpkin Chiffon Pie was the first recipe we made from Primal Palate's site, and needless to say there's a reason we're now good friends!